Quantum 200:Headphone Gameing
Regular price
$79.99
/
---
About the JBL Quantum 200
Gaming headphones that are beyond the basics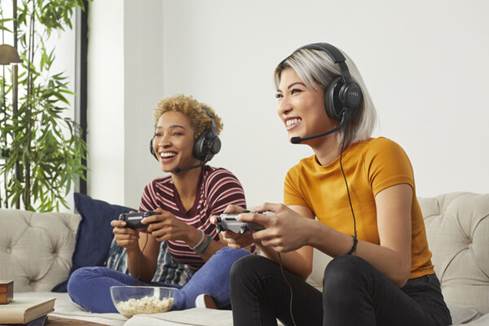 The JBL Quantum 200 headset connects to most Playstation or Xbox controllers and offers immersive sound with hard-hitting effects.
Wired connection to your game controller or PC
The Quantum 200 headset comes with a durable cable that's covered in a tough, braided fabric and terminated with a good old-fashioned 3.5mm miniplug. So it will connect to the headphone jack at the bottom of your Xbox ONE or PS4 controller (and some third-party Nintendo Switch controllers). You should be able to make the same type of connection on the forthcoming Xbox Series X and PlayStation 5 controllers, based on the specs released by those companies.
JBL includes an adapter for tower computers and laptops that require a separate headphone and mic connection. This splitter turns the single miniplug into a double miniplug for connecting to the PC.  
Battle-tested sound
This headset is part of a new line of Quantum Series gaming headphones from JBL. It is one of the entry-level offerings, so it doesn't have some of the customization features and connection options that you get further up the line. But good news if you're main concern is better game sound — the 200s feature the same large 50mm drivers found in all of the other Quantum headsets.
JBL's special headphone sound signature has been honed by years and years of research and exhaustive user testing. It's helped them develop a sound profile that's been proven to satisfy most listeners. For gamers, of course, that means hard-hitting sound effects, but it also means dialogue clarity and directional cues that can help when competition gets fierce.   
Comfort and convenience
Gamers probably keep their headsets on for longer stretches than we serious music listeners wear our headphones. So JBL added a thick layer of soft memory-foam padding to the Quantum 200's earcups and headband. These headphones do fit snugly, but that helps ensure that they stay properly in place while you move around.
Obviously, in the middle of an intense game you don't want stop and readjust or fiddle with your headset. To that point, there's a raised volume dial on the left earcup that's easy to find with your fingers. Plus there's an attached directional microphone for clear-sounding chat with online teammates. You can flip the boom arm up to quickly mute the mic.
Product highlights:
over-ear, closed-back design provides noise isolation
50mm drivers deliver clear sound with deep bass emphasis

JBL's QuantumSOUND signature tuned for immersive gaming sound with hard-hitting effects

attached voice-focused directional microphone

raise boom arm to mute the mic

volume control dial on left earcup
lightweight design with snug, secure fit
soft memory foam earcup and headband padding helps relieve pressure on your head and ears
detachable 47" fabric-covered cable terminated with a 3.5mm miniplug

connects to PlayStation or Xbox controller

PC splitter with single-to-double 3.5mm miniplug adapter included (for headphones and mic)
frequency response: 20-20,000 Hz
impedance: 32 ohms
sensitivity: 113 dB
weight: 8.6 ounces
warranty: 1 year